The 18 Best Upper Peninsula Campgrounds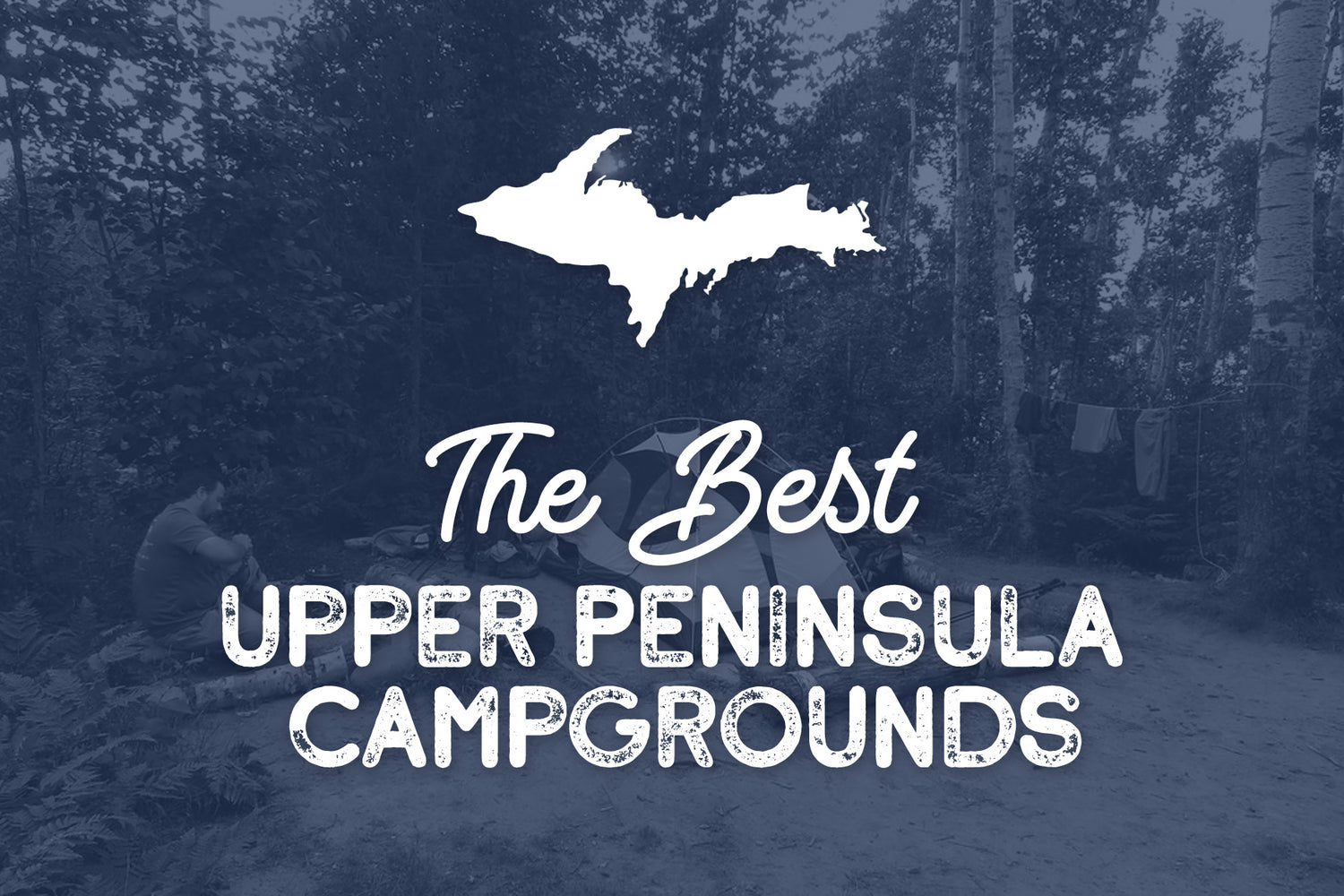 Michigan is an outdoor paradise. If you're in the mood for camping, Michigan has plenty of amazing spots. The Great Lakes shoreline, dense forests, and rolling hills make a stunning backdrop for any adventure - from family-friendly trips to solo backpacking expeditions. 
The Lower Peninsula of Michigan offers many great camping spots, but camping in the Upper Peninsula is something everyone should do at least once. In the Upper Peninsula, you can experience unrefined natural beauty and unrivaled tranquility. With few people or towns around - it's mostly just an untamed landmass waiting for you to explore. Whether you are a camping newbie or a pro, there's a campground for everyone in the Upper Peninsula. 
Michigan Awesome is a Michigan brand dedicated to celebrating the wonderful state of Michigan through state apparel, food, home goods, games, drinkware, and more. Our team members have collectively explored most of the state and started this blog to share more of the state with you. Below is a list of the 18 best campgrounds in the Upper Peninsula. Any of these locations could be the destination for your next adventure.
Hiawatha National Forest
The Hiawatha National Forest is one of the top National Parks in the Midwest. It is stunning and has some great trails to follow. Many Michiganders regard it to be one of the best Upper Peninsula campgrounds. 
There are plenty of options when it comes to camping at this park. You can rent a cabin for some extra comfort if you don't want to be exposed to the elements. There are five different campsite zones with over 100 camp spots available. If you can't reserve a spot, you can always try dispersed camping (which is allowed at Hiawatha).
Kritters Campground
We're big fans of Kritters Campground because of its central location in the Upper Peninsula. The campground is located in Newberry, which is an hour from Munising, Hiawatha, and 27 minutes away from Tahquamenon Falls. You can use the campground as your home base as you explore all of the beauty the Upper Peninsula has to offer. 
The grounds have several different lodging options. Of course, you can reserve a space for your tent or camper. However, you can also rent deluxe log cabins or cottages. The grounds also include volleyball and basketball courts, horseshoe fields, and 40 acres of nature trails. 
Soo Locks Campground
Planning a trip to the Eastern Upper Peninsula of Michigan? Check out Soo Locks Campground in Sault St. Marie. It's one of the most popular campgrounds in the state, with 100 sites, all including water and electricity hookups. And that's not all. You can also explore the history of the Soo Locks and watch cargo ships as they pass by. 
The Soo Locks Campground is perfect for a getaway where you'd like access to modern amenities in close proximity to civilization. A playground and swimming beach make it great for families in particular. Moreover, restrooms, stores, rec rooms, and dump stations make your trip more convenient.
Tahquamenon Falls State Park Rivermouth Campground
Tahquamenon Falls State Park Rivermouth Campground is located at the Tahquamenon River. From the campgrounds, you can get some amazing views of the gorgeous 50-foot Upper Falls, over 200 feet wide.
The first campground sits closer to the falls while the other campground lies near the river mouth and offers great views all year round. Both combined give you over 200 different campsites to choose from - how cool is that?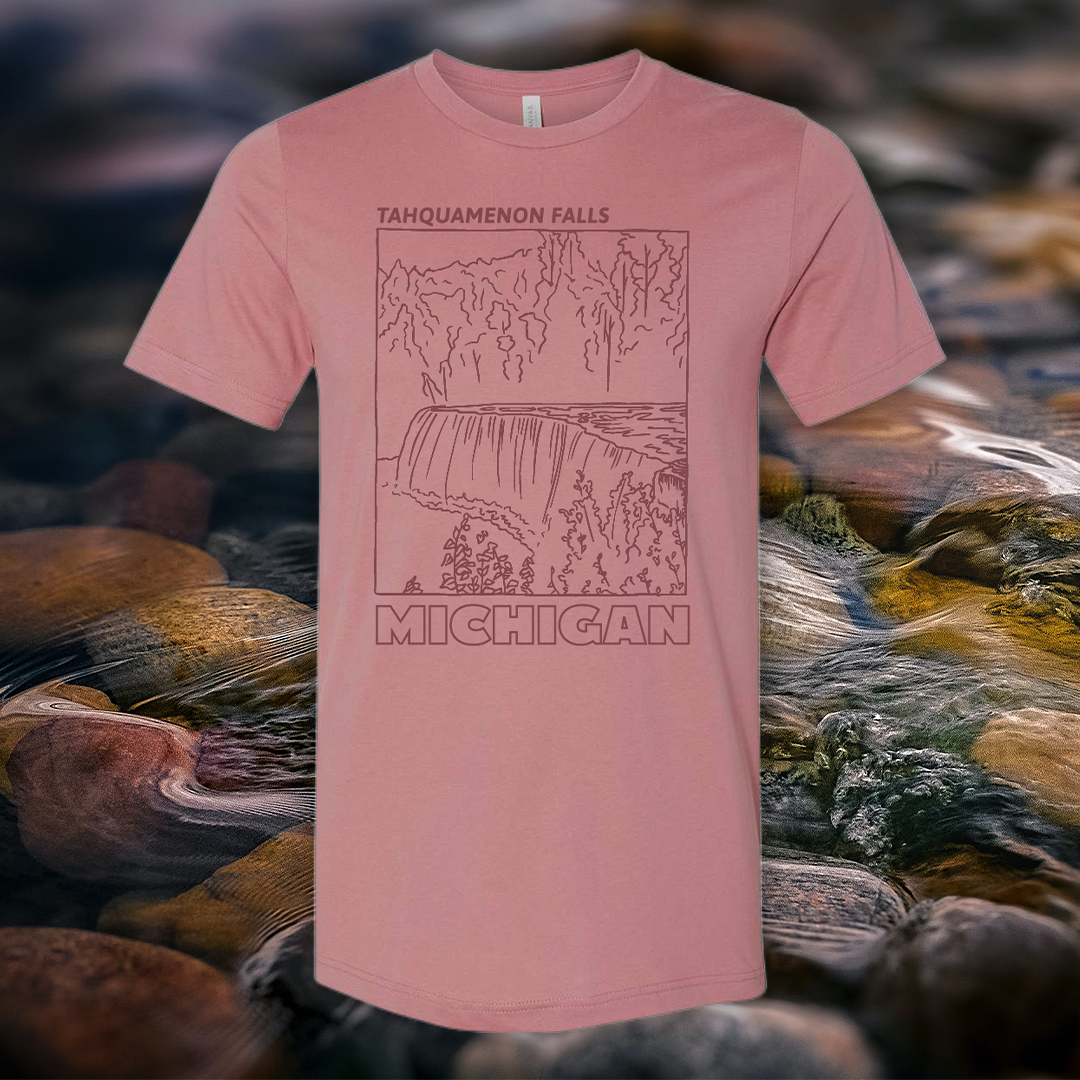 If you're planning to camp at Tahquamenon Falls, you can commemorate your trip with our illustrated Tahquamenon Falls t-shirt. Want a challenge? Try to capture a photo of you wearing this shirt in the same exact location as the illustration in the shirt. 
Indian Lake State Park
If you love camping near water, head to Indian Lake State Park in Upper Michigan. It's bordered by the fourth-biggest inland lake in the area, which makes it perfect for activities like swimming, fishing, and boating. 
The Park has two separate campgrounds - one is modern, with power hookups for those with RVs or motorhomes, while the other offers no such facilities. Between them, they pack a serious punch for campsites - 200 of them! 
Fort Wilkins State Park
Fort Wilkins State Park is a great spot for campers. Located in Michigan's Upper Peninsula, it has 54 modern campsites with electric & water connections, an RV dump station, a playground, and a swimming beach. The facilities make it an ideal camping spot for families.  It looks over the historic Fort Wilkins, built in the mid-1800s, to protect copper mining in the area. You can explore the Fort and its history and participate in activities like camping, fishing, boating, and hiking. 
It will be a trip you won't forget. These activities can be enjoyed throughout the year, regardless of the season. Additionally, the park has an amphitheater, perfect for presentations or weekly movie nights. 
Muskallonge Lake State Park
If you are looking for an escape from the urban landscape, Muskallonge Lake State Park should be at the top of your list. Muskallonge Lake State Park is an incredible spot for anyone looking to get away from the mundanities of urban lifestyle and be closer to nature. 
Sitting right on the shores of Lake Superior, you can take advantage of a gorgeous beach - perfect for swimming, fishing, or whatever water activities you love.
The campsite has 155 spots with electric and water hookups and modern facilities. Hiking, biking, and bird watching await in trails around the Park, while stunning lake views will leave you stunned throughout your stay. Moreover, there are picnic areas, playgrounds, and a camp store nearby offering convenient extras.
Porcupine Mountains Wilderness State Park
Porcupine Mountains Wilderness State Park is a landmark tourist site in Michigan. Spanning 60,000 acres across the United States, it's one of the largest state parks. Its steep and rugged terrain, lush forests, and cascading waterfalls make it a heaven for nature lovers.
If you're looking for a spot to camp at this Park, nearly 300 designated campsites are available, ranging from a basic tent site to fully equipped RV sites. 
Grand Island
Grand Island may be one of the most unique camping destinations on this list. You have the opportunity to camp on an undeveloped island with serene wilderness and primitive campsites. Cabins are available for rent, but Grand Island is also one of a handful of locations in the state that offers wild camping (also referred to as free camping). This means you can set up a tent wherever you like on the island. No cars are permitted on the island, but campers can still traverse the island quickly using bikes or kayaks. 
McLain State Park
McLain State Park is a scenic spot located on the shores of Lake Superior in Michigan's Upper Peninsula. Activity-seekers love this place, which offers over two miles of sandy beach and many exciting water activities.
Camping in McLain State Park is convenient. There are 98 modern campsites to choose from, including 37 with electrical hookups and plenty of walk-in tent sites. The hiking trails around McLain weave through stunning woods and provide picturesque lake views. You can also enjoy picnicking, playing at the playground, and launching boats offshore.
The Rippling River Resort and Campground
The Rippling River Resort and Campground in Marquette County, Michigan, is a great place to get away from a sedentary lifestyle. The resort offers 55 campsites with electric and water hookups and cabins for those who want extra camping luxuries. 
Visitors can take advantage of the beautiful Michigamme River, where they can fish, swim, or just sit back and relax by the river. 
There are plenty of hiking trails throughout the forest and a playground/recreation hall onsite— making it an ideal destination for families or couples wanting to explore Michigan's tranquil countryside.
Baraga State Park
Enjoy the natural beauty and tranquillity at Baraga State Park, located on the shore of Keweenaw Bay. The Park offers an abundance of campsites, with 78 having electric hookups, plus one cabin that can fit up to four people - all surrounded by a lush forest.
Popular activities include hiking on nearby trails or summertime diving in the bay's shallows and fishing for lake trout, walleye, and northern pike. There's also a sandy beach for sunbathing or taking a leisurely stroll.
Don't forget to pack your camping gear when heading out on your trip to Baraga State Park. Michigan Awesome has some great camp shirts, perfect for an outdoor excursion to Baraga State Park.
Presque Isle Campground
Presque Isle Campground is a perfect spot for a last-minute outdoor adventure. It is ideal for anyone wanting to spend some time closer to nature. The Park has 50 campsites, including 16 with electrical hookups and charming rustic cabins available to rent. 
Moreover, the campgrounds are surrounded by dense forests and are only a short walk from the river. You can do activities like fishing, swimming, or simply lounging by the water on your getaway. 
Munising Tourist Park
If you want to explore the natural beauty of Michigan's Upper Peninsula, Munising Tourist Park Campground is a perfect destination. The campground offers 100 campsites, with 56 having complete hookups, 44 with water and electric hookups, and several rustic cabins for rent. Moreover, the campsites are in close proximity to the beach, so you get stunning views of the lake from your camps. The Park also has a playground, beach volleyball court, and boat launch. You can go fishing, swimming in the lake, kayaking, or hiking around the area.
Brimley State Park 
If you're looking for a camping spot near Lake Superior, check out Brimley State Park. You won't find any campsites with views of the lake – but it's only a short walk to the beach, and the sunset view is spectacular.
There are 237 campsites in total, including 155 with electrical hookups. Moreover, several rustic cabins are available if that's your cup of tea. The Park blends into an incredibly dense forest and is just a minute away from a sandy, picturesque beach on Lake Superior. Brimley State Park offers many activities, including swimming, boating, fishing, and hiking.
Little Union River 
Little Union River is heaven for camping enthusiasts. Located by Little Union River at the Park, it's a beautiful spot to experience Michigan's natural splendor. This rustic campground has 22 campsites, and while they don't have electric or water hookups, you'll find handy picnic tables, fire rings, and a playground for kids. You can go fishing, kayaking, or wander through the lovely forest with all sorts of wildlife.
Aune-Osborn Campground
Aune-Osborn Campground is a nature lover's paradise near Sault Ste. Marie. You can find 100 campsites, 38 with electric hookups, and several rustic cabins to rent onsite. These accommodations are nestled in the forest, providing a tranquil camping experience among trees and wildlife. It also offers some outstanding views of the water.
The Rifle River is ideal for fishing, swimming, or even tubing. Moreover, you can rent kayaks or paddle boats at the campground. If land activities are your thing, check out all the hiking trails winding through surrounding forests or head to the playground/basketball court for some friendly competition.
Twelvemile Beach Campground
Twelvemile Beach Campground is located in Michigan's Pictured Rocks National Lakeshore and right along Lake Superior's southern shore. It's an outdoor enthusiast's paradise, with  36 rustic campsites, walk-in varieties, and mesmerizing lake views among towering dunes. 
Spend your days swimming, hiking, or looking for wildlife for a unique camping experience. Moreover, you're only a stone's throw away from popular places like Chapel Rock and Mosquito Beach within Pictured Rocks National Lakeshore.
Stock Up On Camping Essentials Before Your Camping Trip
Michigan's Upper Peninsula is a dream come true for outdoor adventurers. Before you set out for your camping trip, don't forget to stock up on some must-have camping essentials from Michigan Awesome. Our top picks include our Michigan outdoors campfire mug to keep your coffee hot around the campfire and tasty snacks like dried cherries or cherry berry trail mix for a quick energy recharge.
Show Off Your Passion for Camping With Michigan Awesome!
If you're heading for a camping trip to one of Michigan's many awesome spots, pack comfortable camp gear! Michigan Awesome has the perfect clothes for your adventure. Our breathable and comfy
Michigan shirts
come with unique local slogans to show your love for the state on your hiking and camping trips. Have questions about our products? Don't hesitate to contact us via our
online contact form
.