The Top 25 Bike Trails In Michigan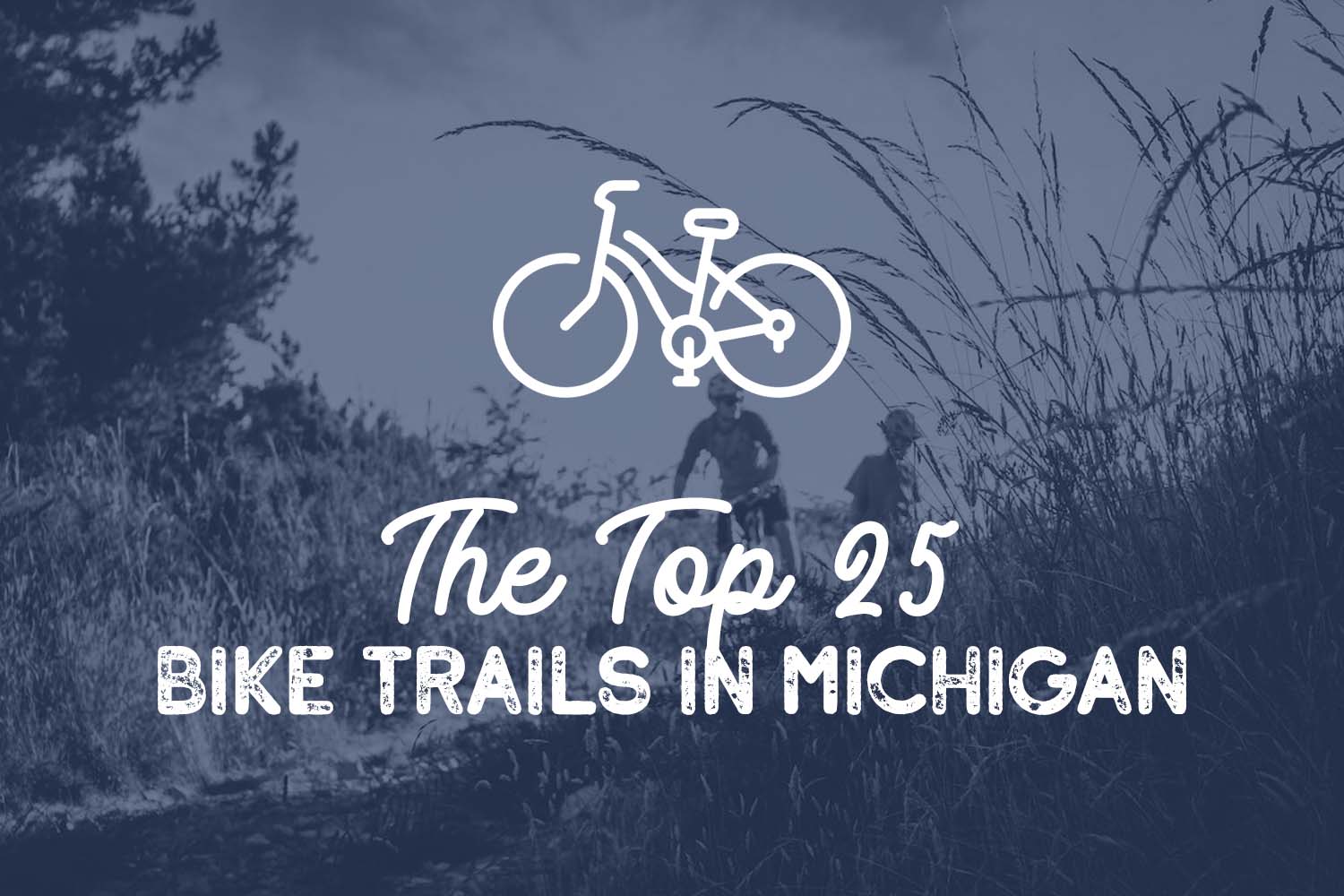 Michigan has a vast network of multi-use paths across its urban and rural areas. It's no wonder the state is considered the best trail state in the nation. Over 12,500 miles of state-designated trails allow visitors to explore the scenic Great Lakes and surrounding landscapes. 
We love biking here at Michigan Awesome, so we thought we'd share what we believe to be the top 25 bike trails in Michigan. There's a variety of trails on this list scattered across the state for riders of every skill level, so there's something for everyone. 
1) Betsie Valley Trail
The Betsie Valley Trail runs from Elberta to Frankfort in northern Michigan and is a beautiful 22-mile long trail path. It's the perfect trip for anyone interested in the environment and history since it passes through wooded areas, farms, and picturesque villages. 
The crushed limestone and concrete walkways of the trail trace the historic Ann Arbor Railroad route. Visitors can rest at stops along the trail, enjoy beautiful views of Betsie Lake and Crystal Lake, and explore historical attractions at the Railroad Depot Museum.
2) Huron Sunrise Trail
Oscoda, Michigan, is home to the 7-mile-long Huron Sunrise Trail, a popular bike route across the Huron and Manistee National Forests. Ride along the picturesque Lake Huron beachfront with breathtaking views of the lake and the surrounding woodland on this path. 
Families with young children will appreciate the multiple access points for the beach and nearby cities such as Oscoda and Au Sable.
3) Little Traverse Wheelway
Connecting Charlevoix, Petoskey, and Harbor Springs in Michigan is the Little Traverse Wheelway, a paved route that spans 26 miles. This path offers stunning views of Lake Michigan and the surrounding trees. 
The path suits cyclists of all skill levels as it has gentle inclines and declines and is perfect for families since it passes through several parks, picnic sites, and rest stops.
4) Tawas Bay Pedestrian and Bike Path
Trailing to Tawas Bay, Michigan, will lead you along the stunning shores of Lake Huron. You can enjoy spectacular views of the water and surrounding scenery on this 3.5-mile-long route. The pathway connects locals to various recreational areas.
Picnic places, benches, and lookout points are conveniently located throughout the trail so that bikers can take in the scenery at their own pace.
5) Leelanau Trail
The Leelanau Trail is a 17-mile paved bike path in Michigan's wine region, offering beautiful views of cherry orchards and vineyards. It is suitable for cyclists of all skill levels due to its moderate flatness. 
There are various trailheads with facilities, including bathrooms and picnic places along the path. The path travels past quaint communities, such as Suttons Bay and Lake Leelanau, where you can stop for a bite or go window shopping.
6) Sleeping Bear Heritage Trail
The Sleeping Bear Heritage Trail is an excellent route for cyclists winding through the woods and along the shores of northwest Michigan. From Glen Arbor to Empire, the path travels 22 miles through beautiful scenery, culminating in breathtaking panoramas of Lake Michigan.
The trail's mild inclines and flat, even surface make it ideal for families and casual cyclists. Rest at one of the many scenic picnic sites or beaches along the path.
7) The Lakeshore Connector Path
Connecting Holland and Grand Haven, the Lakeshore Connector Path is a beautiful pathway with an attractive mix of urban and natural settings. The picturesque villages, beaches, and dunes along the path's 12-mile length make it ideal for day trips and picnics. 
The Lakeshore Connector Path is ideal for cyclists of all skill levels as it is paved and relatively flat. It's an excellent option for a day trip or a leisurely ride with friends.
8) Fred Meijer Grand River Valley Trail
Bike through the peaceful western Michigan countryside on the Fred Meijer Grand River Valley Trail. The 42-mile path follows the Grand River and provides a beautiful valley view through Kent, Ottawa, and Ionia counties. The trail in Millennium Park is quite flat, with a few hills and wooden bridges. 
Visitors will find ample parking, restrooms, and water fountains near the trailhead.
9) William Field Memorial Hart-Montague Trail State Park
The William Field Memorial Hart-Montague Trail State Park spans 22 miles and links Hart and Montague's towns, offering visitors a beautiful biking path. Beautiful farmland, forests, and small towns await bicyclists along this route, showcasing Michigan's rich agricultural history.  
Those interested in Michigan's maritime past should not miss visiting the White River Light Station.
10) Muskegon Lakeshore Trail
Discover the serene lakeshore trail that stretches 12 miles along Muskegon's lakefront. This trail follows an easy route and offers stunning views of the lake. Bikers can find several picnic spots, lakes, and outdoor recreational areas. 
Take a break, and relax on one of the many benches or overlooks along the route. This trail is accessible year-round, making it perfect for a leisurely bike ride or a family outing.
11) Pere Marquette Rail Trail
The Pere Marquette Rail Trail stretches for 30 miles, away from the city's chaos. The path begins in Midland and continues to Clare, passing through rural landscapes, beautiful woods, and quaint little villages. Below is a partial map of the trail from Clare to Evart.
The crushed limestone pavement is perfect for any of those activities. Bikers can stop at rest stops, use trailheads, and learn about the area's history and natural wonders.
12) Saginaw Valley Rail Trail
Saginaw County boasts a 9.2-mile-long Saginaw Valley Rail Trail overlooking the Saginaw River and the surrounding landscape. The trail starts at St. Charles and ends at Saginaw, offering the opportunity to explore various beautiful and distinct ecosystems, including marshes and woods, along the way.
Set back, relax, and take in your surroundings along the trail's many benches, tables, and shelters. For a more personalized experience, Bike Michigan Unisex t-Shirt for a more surreal experience.
13) Harbor Beach Bike-Pedestrian Path
Bike along the 2.2-mile-long Harbor Beach trail path at In Harbor Beach, Michigan. The paved trail hugs the edge of Lake Huron and provides spectacular views of the water and the port. The trail is perfect for those who enjoy cycling and leads directly to the beach and other recreational areas. 
People of all ages, whether in families or groups, can enjoy the seating and picnic tables provided along the route.
14) Clinton River Trail
It is a paved path that extends over 16 miles and begins near Sylvan Lake. Clinton River trails travel through forests, suburbs, and beautiful parks before arriving in the heart of Rochester. As you go along this route, there are stunning vistas of the Clinton River and the surrounding forest. 
During breaks, cyclists can rest at designated areas or enjoy a picnic with their fellow riders. To make the experience more special, the group can wear Bike Michigan Unisex t-shirts and take a photo together as a memory. This is a safe and enjoyable way to celebrate the experience.
15) Van Buren Trail
The Van Buren Trail in Michigan's Van Buren County is a 14-mile-long path from Hartford to South Haven. It offers stunning views of the Paw Paw River, forests, and farms as it meanders through an old railway corridor.
The crushed limestone surface is ideal for cyclists of all abilities. Along the way, there are rest areas, picnic tables, and informative signs that showcase the history and natural beauty of the region. This trail is the perfect place to enjoy the great outdoors and explore the area.
16) ITC Corridor Trail
The ITC Corridor Trail in southeast Michigan is a little-known treasure that provides a peaceful refuge from the din of the city. This 17-mile paved route connects Wayne and Washtenaw counties and follows a decommissioned electricity transmission corridor through beautiful natural areas rich in flora and fauna. The trail is broken up across multiple cities. Below is the map for the Novi section. 
The trail's mild inclines and well-kept infrastructure make it an inviting destination for bikers of all experience levels.
17) Mackinac Island Outer Loop
The Mackinac Island Outer Loop is an easy and scenic 8 mile ride around the perimeter of the island. You'll be able to enjoy views of Lake Huron and the Mackinac Bridge as you cruise along the paved bike path. 
You can bike the loop in either direction, but we recommend biking the loop starting east from downtown so that you can stop at Cannonball Oasis to refuel with snacks and drinks before the final stretch.
18) Kal-Haven Trail State Park
Located in southwestern Michigan, this 34-mile-long trail is a favorite among cyclists. The path travels through picturesque little towns and provides various landscapes, from busy cityscapes to calm countryside.
Trailing cyclists will love the smooth and pleasant ride along the crushed limestone path. They can relax on benches, enjoy the beautiful sunset, and access well-maintained facilities like water fountains.
19) Grand Island
Experienced mountain bikers seeking a thrilling ride will appreciate the stunning views of Lake Superior on the Grand Island trail in the Upper Peninsula. This route offers untouched natural beauty, with over 40 miles of trails winding through forests, rocky shorelines, and towering sandstone cliffs.
Despite the challenging terrain and rough surfaces, the tracks are worth exploring. You can also explore the island's cultural past by visiting momentous landmarks and abandoned towns.
20) Hanson Hills
Hanson Hills in Grayling is an exciting place to go mountain biking because of its more than 20 miles of rugged tracks. Skilled riders will find the routes in the park to be an exhilarating challenge due to their winding course through thick woods, steep slopes, and rocky terrain. Below is a map of the overlook loop trail. 
Bikers can enjoy conveniences such as bike rentals, bathrooms, and picnic spots, making it an ideal destination for a day trip in the great outdoors.
21) Iron Ore Heritage Trail
The Iron Ore Heritage Trail is a 47-mile-long multi-use trail that winds through Marquette County and the county's historic mining communities. All levels of cyclists will enjoy the scenic vistas of Lake Superior and the surrounding woodland on this route. 
Along with scenic views, the trail features several museums and historical sites that provide insight into the region's rich mining history. 
22) Ann Arbor Ramble Trail
The Ann Arbor Ramble Trail is a 5.9 mile paved trail through Gallup Lake Park in Ann Arbor. The trail is an easy ride that can be enjoyed by anyone at any skill level. It can be a nice escape from the busy downtown. 
The trail is very popular, so you'll likely encounter many people while riding. You can extend your bike ride in either direction from the loop to see more of Ann Arbor while you bike. 
23) Copper Harbor Trails
When it comes to mountain biking in the Midwest, few places can compare to Copper Harbor's trails. Discover the beauty of Lake Superior and the surrounding forest by biking the trails in the Keweenaw Peninsula. Below is a map of the flow and overflow loop trail. 
The trail structure is well-suited for bikers of varying skill levels, with options ranging from mild, cross-country rides to steep, adrenaline-pumping descents.
24) Polly Ann Trail
The Polly Ann route is a rail route that extends for 14.2 miles across Oakland County's beautiful scenery. The trail's name was inspired by the Pontiac, Oxford, and Northern Railroad that used to run alongside it. 
It's a great trail for cyclists of all skill levels because of its beautiful surroundings, including forests, lakes, and fields. Passengers can take in sights like the Oxford Public Library and Seymour Lake Township Park along the way.
25) Iron Belle Trail
The Iron Belle route spans almost 2,000 miles from Belle Isle Park in Detroit to Ironwood in the Upper Peninsula, making it the longest-recognized state route in Michigan. The path offers stunning views of the state's most scenic areas. 
The lower part is called the Iron Belle Path, while the upper section is the Upper Peninsula Iron Belle Trail.
Show Your Love For Michigan Biking With Michigan Awesome
Whether you prefer a leisurely ride or a more challenging adventure, Michigan's bike trails offer something for everyone. Enjoy Michigan's extensive network of bike trails while showcasing your love for Michigan biking with our Bike Michigan T-Shirts. The shirt is breathable and light, which makes it perfect for active biking. 
Looking for more ways to celebrate state pride? Michigan Awesome carries over 200 different apparel items for you to dress from head to toe in Michigan gear.