The Complete Michigan Gift Guide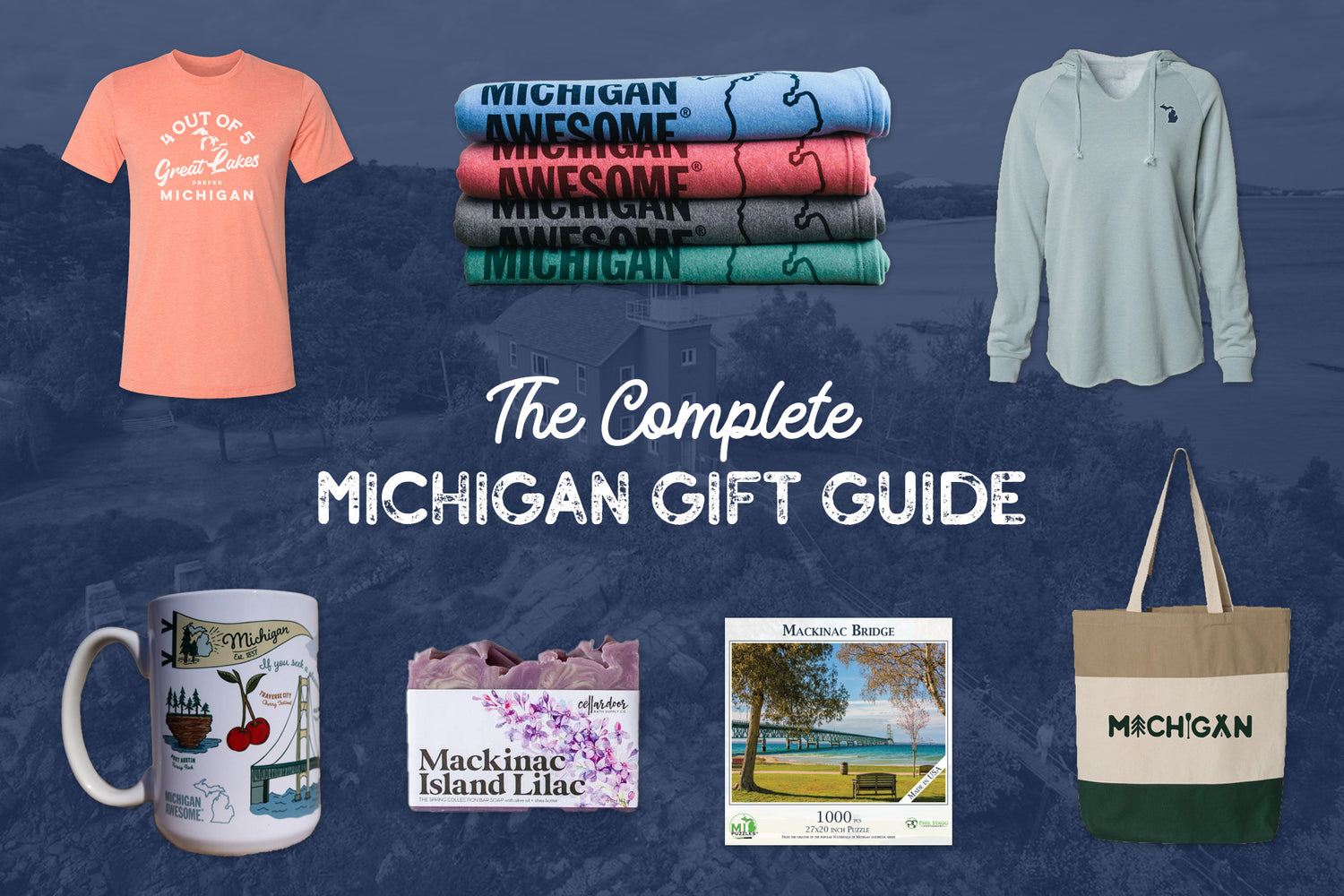 As the holiday season approaches, finding the perfect gifts for your loved ones can be a fun yet challenging task. This year, why not spread some Michigan cheer with presents that not only showcase the beauty of the state but also support local artisans and businesses? 
Michigan is known for its diverse landscapes, from the picturesque shores of the Great Lakes to the lush forests and charming small towns that dot the state. It's a place of natural beauty, rich history, and a vibrant community of talented creators. So, why not celebrate the spirit of Michigan this holiday season by gifting your friends and family products that are made right here in the Wolverine State or pay homage to its incredible culture and heritage?
In this detailed gift guide, we'll show you a curated selection of Michigan-made and Michigan-themed products that are sure to bring joy to your holiday festivities. From artisanal treats to unique handcrafted items, you'll find the perfect presents to make this holiday season extra special.  Whether you're a proud Michigander or simply appreciate the state's unique charm, our complete Michigan Gift Guide is here to help you discover the ideal presents for everyone on your list.
Michigan Apparel
Michigan apparel offers a fantastic gifting option that allows your loved ones to proudly showcase their state pride. Here's why they're an absolute win for the holiday season.
4 Out 5 Great Lakes Prefer Michigan Unisex Shirt
Regional Pride
Michigan apparel is a statement of regional pride. Apparel like this 4 Out 5 Great Lakes Prefer Michigan Unisex Shirt embodies the sentiment perfectly. With its clever design, this shirt celebrates Michigan's unique position as the only state bordered by four of the five Great Lakes. It's an excellent conversation starter and a way for Michiganders to express their love for their home state.
Versatile Style
These unisex shirts are available in six different colors, making it easy to find one that suits the recipient's personal style. Whether they prefer neutral tones or brighter shades, there's a color option for everyone. This versatility ensures that the shirt can be worn casually or dressed up, making it a wardrobe staple.
Smitten with the Mitten Hoodie
Cozy Comfort
The Smitten with the Mitten Hoodie is perfect for those chilly Michigan winters. Crafted for comfort and warmth, it's an ideal gift to keep your loved ones cozy during the cold season. Made with high-quality materials, this hoodie is not only stylish but also durable, ensuring it will be cherished for years to come.
State Chic
For the fashion-forward Michigander in your life, the Michigan Flowy V-neck Hoodie is a standout choice. Combining trendy colors with minimal Michigan branding and a commitment to quality, this hoodie is a fashionable way to express love for the state. It's a great gift for trendsetters who want to make a statement of state pride while staying warm and comfortable.
Don't miss the opportunity to make this holiday season special with these fantastic Michigan-themed apparel items!
Michigan Accessories
Michigan-themed accessories offer a unique blend of style, sentiment, and practicality. Here's why Michigan-themed accessories can be a great choice for gifting.
Home is Where the Hand Is White Vinyl Sticker
Sentimental Value
Michigan-themed accessories, like the Home is Where the Hand Is White Vinyl Sticker, carry a deep sentimental value. They allow Michiganders to express their love for their home state, creating an instant connection and sense of belonging. This sticker, for instance, is a subtle yet powerful way for someone to proudly display their Michigan pride on their car, laptop, or any other surface they choose. It can be a great inexpensive stocking stuffer. 
Memorable Keepsakes
Accessories like the Mini Michigan Necklace or the Michigan ring serve as memorable keepsakes. Whether it's a gift for a native Michigander or someone who has a special connection to the state, a Michigan-themed necklace becomes a timeless reminder of home.
Functional Fashion
The Michigan Outdoors Tote Bag is perfect for everyday use, whether it's for groceries, books, or a day at the beach, while the Michigan Classic Trucker Hat not only shows off Michigan pride but also provides shade and protection during outdoor adventures. These accessories seamlessly blend fashion with functionality.
Organize With Style
The Michigan Icons Pouch offers convenient small-item storage in a stylish and uniquely Michigan way. These pouches are perfect for makeup items, pens, and pencils, or any small belongings that need to be organized. With the Michigan Icons design, they add a touch of Michigan charm to everyday items.
Whether it's a sticker, necklace, tote bag, hat, or pouch, these accessories add a touch of Michigan to everyday life. They are thoughtful gifts that resonate with the recipient on a personal level, making them a perfect choice for holiday or special occasion gifting. So don't miss the opportunity to share a piece of Michigan with your loved ones through these stylish and meaningful accessories.
Michigan Home Goods
Michigan-themed home goods combine the warmth of home with the pride of the Wolverine State. Here's why Michigan-themed home goods can be a great gift (along with ideas to get you started!)
Michigan Awesome Sweatshirt Blanket
Cozy Comfort
The Michigan Awesome Sweatshirt Blanket not only keeps you warm but also wraps you in the comfort of Michigan pride. It's like having a piece of home to snuggle up with, making it an ideal gift for those who want to stay cozy and reminisce about their love for Michigan.
Wooden Michigan Christmas Ornament
Festive Decor
The Wooden Michigan Christmas Ornament adds a touch of Michigan charm to holiday decorations. Whether it's adorning the Christmas tree or hanging in a prominent spot, this ornament enhances the festive ambiance while celebrating the state's unique shape.
Refreshing Memories
The Michigan Air Freshener evokes memories of driving through Michigan's scenic landscapes, filling the air with a familiar and delightful scent. It's perfect for those who want to carry a part of Michigan with them wherever they go.
MI State Park Hanging Wall Checklist
Decorative Travel Inspiration 
Michigan's state parks are simply incredible. Wouldn't it be great if there was an easily accessible list of all of the parks in the state to visit? The MI State Park Hanging Wall Checklist provides all of the state parks as wall decor with a pen included to check off the parks that have been visited. It's a great gift for the avid hikers or camping enthusiasts you know. 
Mackinac Island Lilac Artisan Bar Soap
Luxurious Self-Care
The Mackinac Island Lilac Artisan Bar Soap offers a luxurious self-care experience reminiscent of Michigan's natural beauty. Crafted with care, this soap provides a spa-like indulgence and serves as a reminder of the state's breathtaking landscapes and floral scents.
Mackinac Bridge 1000-Piece Puzzle
Mindful Entertainment
The Mackinac Bridge 1000-Piece Puzzle is not just a puzzle; it's a mindful and entertaining way to celebrate one of Michigan's iconic landmarks. It's an excellent gift for puzzle enthusiasts, providing hours of engaging fun while showcasing the state's engineering marvel. 
Gifting Michigan-themed home goods shows thoughtfulness and consideration for the recipient's love for the state. It demonstrates that you've taken the time to find a gift that aligns with their interests and brings them joy.
Michigan Reads
Books make for great gifts. There are books available for any age and interest and Michigan has no shortage of excellent authors. If you want to give something thoughtful and thought-provoking, a Michigan book may be the gift you've been looking for. 
It Happened in Michigan: Stories of Events and People that Shaped Great Lakes State History
Get Immersed In History
Michigan is full of rich history and there are many great books for the history buffs in your life. One book worth highlighting is It Happened in Michigan, which features over 25 short stories about real events that shaped the Great Lakes State. The book covers everything from the creation of the Model T to the Pontiac World Cup. It's an easy read that's excellent for Michiganders ages 12 and up.
Guardians of Michigan: Architectural Sculpture of the Pleasant Peninsulas
Learn About Michigan Architecture
There is a wealth of extraordinary architecture around Michigan. Guardians of Michigan profiles iconic architectural sculptures that span both large cities and small towns throughout the state. Author, Jeff Morrison's photography and historical knowledge bring these monuments to life. This book is a great gift for the architects or architectural admirers in your life. 
Satisfaction Guaranteed: How Zingerman's Built a Corner Deli into a Global Food Community
Find Entrepreneurial Inspiration 
Michigan has always been a state renowned for its entrepreneurial spirit. In fact, Michigan has ranked in the top five most entrepreneurial states in the US for several years. There are many great business stories worth studying, from Henry Ford to Frederik Meijer. One story worth studying for business owners and aspiring entrepreneurs is Zingerman's. You can learn about how Zingerman's in Ann Arbor turned a small deli into a business that now earns over $60 million in annual sales in Satisfaction Guaranteed: How Zingerman's Built a Corner Deli into a Global Food Community.
Mackinac Bridge: The Story of the Five-Mile Poem (Tales of Young Americans)
Connect With Your Children
Michigan is home to many great children's authors, one of them being Gloria Whelan. Her book, Mackinac Bridge: The Story of the Five-Mile Poem (Tales of Young Americans) is about a boy in the 1950s (named Mark) whose father owns a ferryboat between the two peninsulas. The construction of the Mackinac Bridge puts Mark's father's business in jeopardy. The book is a great read that will teach children about the construction of one of Michigan's greatest engineering marvels.  
Michigan Artisan Foods
Michigan-themed artisan foods make for exceptional gifts, not just because they offer a delicious taste of the state but also because they reflect the pride and flavors of Michigan. Here's why they should be at the top of your shopping list this year.
Taste of Michigan
Gifting artisan foods from Michigan is like sending a piece of the state itself. The Michigander Gift Box and Michigan Cherry Lovers Gift Box, for instance, feature an array of locally inspired flavors, including cherries, salsa, preserves, and more. Recipients can savor the unique and mouthwatering tastes of Michigan's culinary heritage.
Michigan Cherry Lovers Gift Box
Perfect for Homesick Michiganders
For Michiganders who have moved away or are far from home, these artisan foods provide a comforting taste of their roots. It's a way to soothe homesickness and reconnect with the flavors they grew up with.
Versatile Gifting
Whether you're giving the gift of Mackinawesome Fudge Coffee to a coffee lover, indulging someone's sweet tooth with Michigan Milk Chocolate Cherries, or offering a variety of treats in the Michigander Gift Box, these artisan foods cater to different tastes and preferences.
Artisan foods proudly represent the state of Michigan. Each bite or sip is an opportunity for recipients to share in that pride and enjoy products that reflect the quality and flavor the state is known for.
Michigan Drinkware
Michigan-themed drinkware adds a touch of the Great Lakes State to your daily sips and can be a fantastic gift for several reasons.
Local Pride
Whether you're sipping your morning coffee or enjoying a glass of wine, using Michigan-themed drinkware allows you to display your local pride. The Michigan Icons Mug and Michigan Awesome Lighthouse Mug, for example, showcase iconic Michigan imagery, making each sip a reminder of the state's beauty.
Handcrafted Charm
Drinkware like the Hand Crafted Tulip Glass and Rocks Glass embodies the charm of handcrafted goods. These glasses make for thoughtful gifts that are both functional and visually appealing.
Michigan Awesome Stemless Wine Taster
Variety for Every Occasion
With a range of options, from stemless wine tasters to rocks glasses, there's Michigan-themed drinkware for every occasion. Whether it's a cozy night in with the Hand Crafted Tulip Glass or a toast to the outdoors with the Michigan Awesome Stemless Wine Taster, you can find the perfect drinkware to suit the moment.
Collectible Items
Some Michigan-themed drinkware, like the Michigan Awesome Rocks Glass, can become collectibles. These glasses often feature unique designs that celebrate Michigan's culture, making them sought-after items for enthusiasts.
Michigan-themed drinkware pairs beautifully with other Michigan-themed items. Consider creating a gift set by combining a Michigan Icons Mug with artisan coffee or a Michigan Awesome Stemless Wine Taster with a bottle of local wine. It's a thoughtful way to enhance the gift-giving experience.
E-Gift Cards
Can't decide what to get? An e-gift card for the Michigan Awesome store makes for an excellent holiday gift! These cards allow the recipient to choose exactly what they want. Instead of guessing someone's size, style, or preferences, you're giving them the freedom to select the perfect Michigan-themed product that resonates with them the most.
E-gift cards are a hassle-free option, especially for last-minute shoppers. They can be purchased online with ease and are delivered instantly via email, making them a great choice for those who prefer a quick and convenient gift-giving experience. If you have loved ones who live far away and you're unsure about shipping times or their exact preferences, an e-gift card transcends geographic boundaries. You can send it electronically, ensuring your gift reaches them no matter where they are.
Did We Mention That Shipping Is Free?
Shipping costs can add up, especially if you're ordering multiple items or sending gifts to different addresses. With Michigan Awesome's free shipping offer on in-state orders over $75, you can save a significant amount of money that would have otherwise gone toward shipping fees. You also simplify your gift-giving, support local businesses, and can even treat yourself to something special with the extra savings. 
Give the Gift of Michigan This Holiday Season
As the holiday season approaches, it's time to embrace the spirit of Michigan and share the love for the Wolverine State with your loved ones. Finding the perfect gifts that showcase Michigan's beauty and culture while supporting local artisans and businesses is a rewarding way to make this holiday season extra special. For more information or help with an order, call (616) 990-2591 (M-F 8:30-4:30 ET), press the live chat button, or fill out an
online contact form
.