The 19 Most Iconic Michigan Brands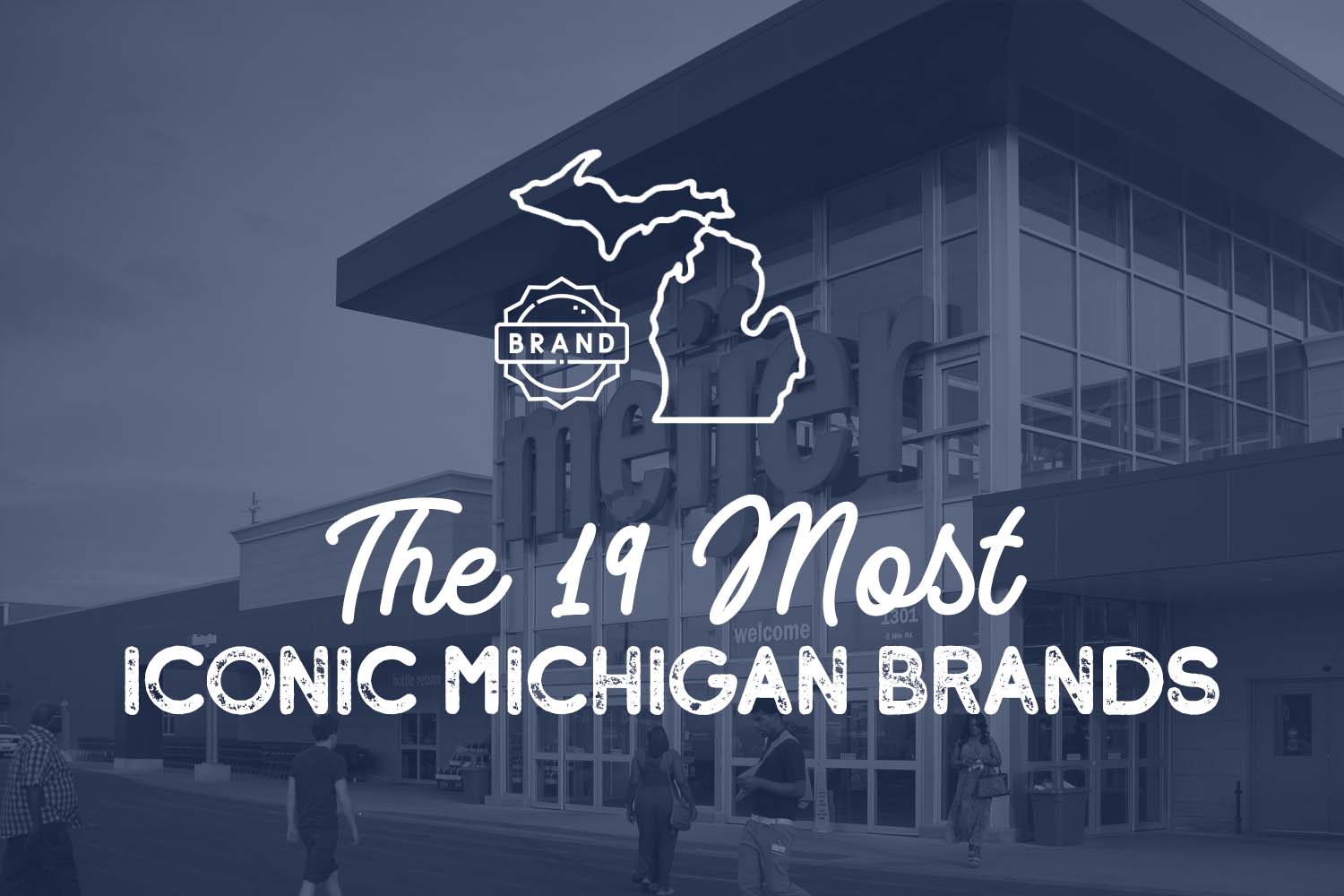 Michigan has dominated the automotive industry for decades. But not many know that it is also the birthplace of many revolutionary brands from other industries. From fast-growing food chains to Fortune 500 companies, Michigan is driving economic opportunities across numerous industries.
At Michigan Awesome, we celebrate all of the awesome things Michigan has to offer, including our local brands. Today we explore what we believe are the 19 most iconic Michigan brands that have created a long-lasting impression beyond the Michigan borders.
Meijer
Hendrik Meijer, a Dutch immigrant and local barber in Greenville, Michigan, founded Meijer in 1934. Initially, Hendrik purchased inventory for groceries just to service his barber shop customers. What started as a small grocery store is now a retail giant with over 250 physical stores in the Midwest.
From groceries and clothing to pharmacy and electronic items, their supercenters stock high-quality products that people have come to love and appreciate. Meijer is now located in six states in the US. 
Belle Tire
Naturally, this list wouldn't be complete without some automotive brands. In 1922, Sam Waze founded Belle Tire with the first location on Grand River Avenue in Detroit. Belle Tire was designed to be a premium tire and auto service business. Gradually, it expanded to become one of the nation's leading tire wholesalers with approximately 130 locations in Michigan, Indiana, and Ohio, with a wide range of vehicle services, such as oil changes, tire installation, brake repairs, alignment, etc.
Since its inception, Belle Tire has been a leader in the tire business due to its commitment to offering superior products and services.
Better Made
Many potato processing businesses found their footing in Michigan, but only a few have stood the test of time. One of the most prominent names is Better Made, where 60 million pounds of potatoes are processed yearly to make potato chips and other snacks.
Cross Moceri and Peter Cipriano founded Better Made Potato Chips in 1930 after they bought a facility to produce potato chips in Detroit, Michigan. Better Made potato chips were the company's initial product, introduced in 1934 under the Cross & Peters Company name. 
Women's Colorblock Cowl Neck Pullover
Michigan Awesome
Michigan Awesome was created to honor the wonderful traditions of the Great Lakes State. The brand began in Grand Rapids in 2010 and is known for its several lines of Michigan-themed clothes and accessories. Today, Michigan Awesome is one of the most well-known Michigan brands.
Michigan Awesome celebrates state pride by incorporating Michigan's popular landmarks, cultural symbols, and other local terminology into its designs. Their product collections include shirts, sweatshirts, caps, stickers, home goods, delicious snacks, and more.
Ford Motor Company
Ford is considered one of the "Big Three" auto manufacturers. The company was founded in 1903 by Henry Ford. Ford engineered many iconic cars, including the F-series trucks, Mustangs, Model Ts, etc. Pioneering electric and hybrid vehicles, Ford Motor Company has changed the automotive landscape and pushed the industry towards sustainable technology. 
Ford is one of the largest and most successful car manufacturers, with a presence in over 100 countries. If you're interested in learning more about the history of the Ford Motor Company, you can visit the Henry Ford Museum in Dearborn. 
Kellogg's
The first Kellogg's store opened in Battle Creek, Michigan. In 1900, brothers W.K Kellog and Dr. John H. Kellogg formed the company under the name Sanitas Food firm after perfecting a procedure for creating crispy, flavorful flakes of processed grain that were a hit with the patients at their father's Battle Creek Sanitarium. 
W.K. Kellogg ultimately acquired his brother's share and founded the Battle Creek Toasted Corn Flake Company in 1906, eventually becoming Kellogg's. The company manufactures many breakfast cereals and delicious snacks, including Pringles, Cheez-Its, Pop-tarts, etc.
Vernor's
Detroit pharmacist James Vernor created the first commercially available soda pop in the United States in 1866. After seeing success with his ginger soda, Vernor turned his pharmacy into a dedicated soda factory in the heart of Detroit.
Vernor's is famous for its strong ginger taste and unique golden hue. A secret to the brand's popularity is a four-year maturing procedure that entails preserving the ginger ale in oak barrels. The soda is primarily sold in Michigan and is widely available across the rest of the Midwest.
Whirlpool
Whirlpool is a household appliance company that began in Michigan in 1911. When it opened its doors, it was known as Upton Machine Company, and it manufactured wringer washers powered by electric motors. 
The company has also been a leader in delivering innovative technologies to the appliance market, including washing machines, ovens, refrigerators, touchscreen displays, and smart home integration. Whirlpool is a household name in more than 170 countries worldwide because of its commitment to being at the forefront of the industry via constant research and development.
Domino's Pizza
Domino's Pizza was founded in 1960 in Michigan. Tom Monaghan and his brother James started the enterprise by buying a tiny pizzeria named DomiNick's. They eventually grew the company and rebranded it as Domino's Pizza, which became well-known for its prompt pizza delivery and distinct flavor.
Domino's Pizza has over 17,000 locations in more than 90 countries worldwide. The brand has made a name for itself by prioritizing its customers and providing cutting-edge innovations like gluten-free crust and vegan toppings.
Detroit Bikes
Detroit Bikes was founded in 2011 in Michigan with a single mission: to produce sustainable and inexpensive bikes for the local community. Soon, the company spread its wings and marked its global presence with an extensive product lineup that includes city bikes, cargo bikes, commuter bikes, etc. 
The company is poised to minimize its carbon footprint and push the local community to sustainability by extending employment opportunities.
Biggby Coffee
Founded in 1995 in Michigan, Biggby Coffee is the national favorite coffee franchise in the United States. With the promise to satisfy the caffeine appetite, their frivolous menu includes Lattes, cappuccinos, mochas, smoothies, bubble teas, etc. 
Biggby Coffee's unique flavor has made it a beloved choice for locals and people worldwide. With 230 stores worldwide, the company has expanded its operations to meet the demand.
Herman Miller
Since its launch in 1923, Herman Miller has been Michigan's leading producer of modern and classic furniture. In 1923, D.J. De Pree and several investors bought the Star Furniture Company in Zeeland, Michigan, establishing Herman Miller. 
The company's contemporary furniture designs have become icons of the mid-century design era due to their revolutionary impact on the office furniture industry. The Eames Lounge Chair, Noguchi Table, and Aeron Chair are just a few of their well-known creations. Manufacturing procedures at Herman Miller include eco-friendly measures, and the company uses recycled materials wherever feasible.
La-Z-Boy
The La-Z-Boy corporation was started in Monroe, Michigan, in 1927. The company's reclining chairs are a mainstay in many American households due to their durability and ease of use. La-Z-Boy, a leading manufacturer of upholstered furniture, has developed a wide selection of seating options, including loveseats, sofas, and sectional sofas.
Quality, comfort, and fashionable design are hallmarks of the brand. La-Z-Boy pieces are available in various colors, materials, and designs to complement existing furniture or create a new look for your living space. La-Z-Boy has over 70 company-owned storefronts nationwide, with designers incorporating their pieces in their designs.
General Motors
The American automaker General Motors is a worldwide enterprise with headquarters in Detroit. Established in 1908, General Motors is now one of the world's leading manufacturers. The company manufactures cars under the Chevrolet, Buick, Cadillac, and GMC brands. 
General Motors has a record of invention in the automotive industry, presenting the first automatic gearbox in the 1940s and the EV1, the first electric vehicle, in the 1990s. Presently, they are investing laboriously in developing electrified and autonomous vehicles.
Moosejaw
Moosejaw is a brick-and-mortar store selling clothing and equipment for snowboarding, hiking, climbing, and camping. Two longtime friends, Robert Wolfe, and David Jaffe, decided to start this business of selling camping gear in 1992 instead of becoming wilderness guides. The "Moosejaw Madness" advertising campaign is a trademark of Moosejaw with a quirky and hilarious take to reach the audience.
Moosejaw is well-known for its high-quality products and has been recognized with several awards for its excellence in online business.
Gerber Products Company
The Gerber Products Company has been making baby food and similar products in Michigan for nearly 90 years. Founder Daniel Frank Gerber started this company in 1990 as a canning business for locally grown vegetables and fruits and soon turned to produce highly nutritious baby food. 
Gerber is a trusted brand known for more than just its baby food; the company also makes infant formula, snacks, and items like bottles and pacifiers. 
Faygo
In the early 1900s, Faygo drinks were introduced to the market by two Russian immigrants named the Feighenson brothers. These sodas came in grape, strawberry, and fruit punch flavors. In the 1920s, they shortened their name to Faygo, which became the company's official moniker. 
While the brand is mainly sold in Michigan, it gained widespread recognition when it was used by the Detroit hip-hop group Insane Clown Posse to douse spectators.
Shinola
Shinola, headquartered in Detroit, produces high-end products, including bicycles, watches, leather goods, and accessories. Since its inception in 2011, the brand has come to represent Detroit's revival as a hub of innovation and creativity. 
The company has become well-known due to its commitment to the local community and its reputation for producing unique, simple designs. Although Shinola's goods are on shelves all over the globe, the business's headquarters and production facilities are based in Detroit, where the company was founded.
Carhartt
Carhartt, established in Detroit, Michigan, in 1889, is well-known for its high-quality and long-lasting workwear, particularly among people in the construction sector and other manual labor fields. Clothing from this manufacturer has become a byword for durability and toughness in the workplace because of how well it holds up under stress. 
While still dedicated to high-quality workmanship and durability, Carhartt has recently widened its product range to include casual apparel and accessories.
Celebrate Michigan With Michigan Awesome
Many iconic brands like Ford, Domino's, Herman Miller, and Carhartt have built their names on trust and reliability and can trace their roots back to the Great Lakes state of Michigan. 
They have become symbolic of Michigan because of the state's distinctive combination of grit, tenacity, and invention. 
Water-Winter Wonderland Trucker Hat

We have so much to celebrate and take pride in as Michiganders - even beyond our iconic state brands. If you're as proud of the Mitten State as we are, we invite you to show that state spirit with our wide collection of Michigan apparel, accessories, home goods, food, and drinkware.