Famous Michigan Snacks - The Complete List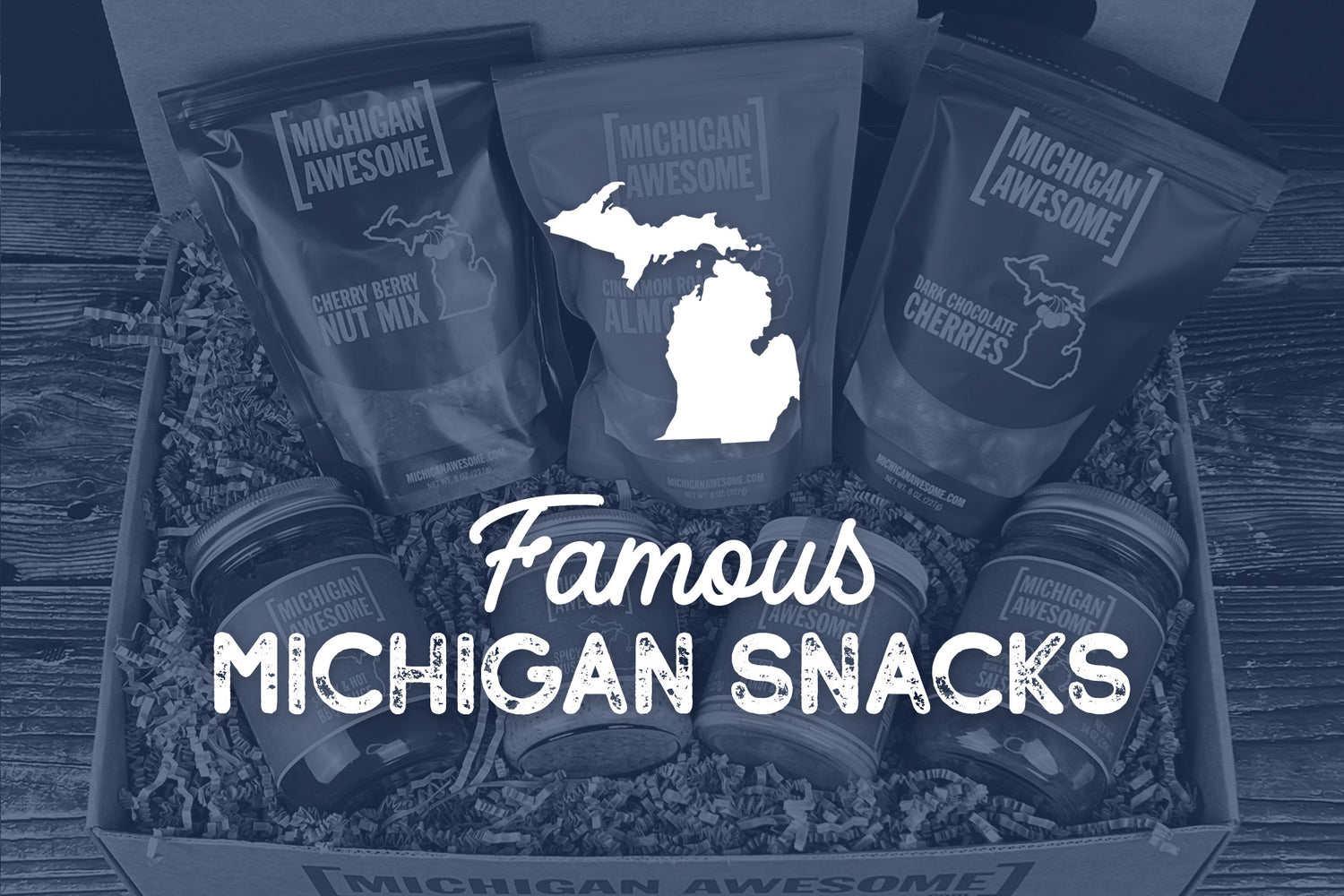 Are you an avid snacker and an enthusiastic Michigander? You're in luck because this topic is one of the most snackable subjects imaginable: the most famous Michigan snacks to munch on! Michigan is home to a variety of delectable foods that you might not find anywhere else. Some of our snacks are world-renowned and you may not even have realized it. Below are 11 of the most famous snacks to emanate from the Mitten State.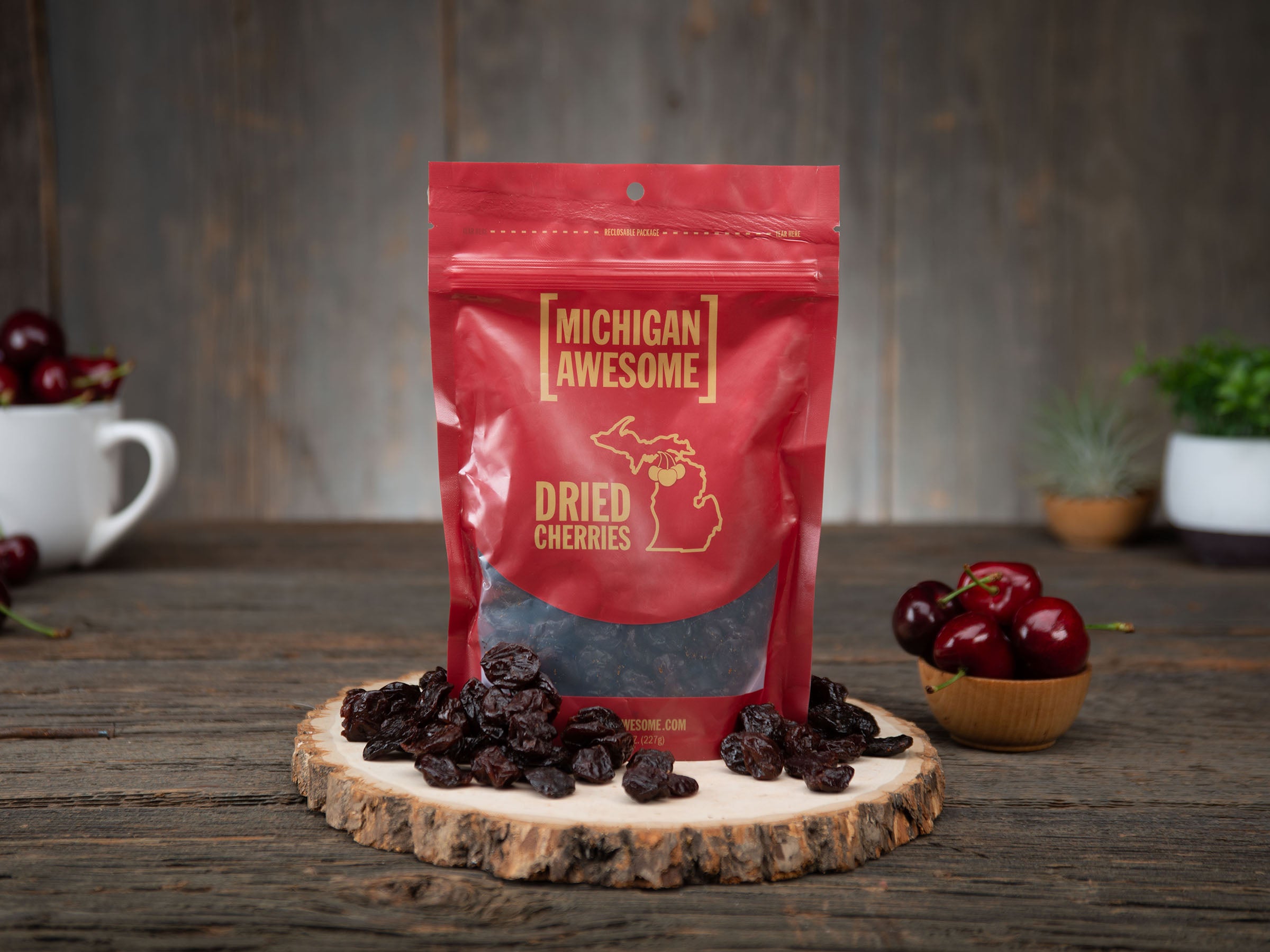 Dried Cherries
Cherries are one of Michigan's most prized specialty crops. Each year Traverse City celebrates our cherry crop with the annual National Cherry Festival that draws in crowds from around the world. There are many different Michigan snacks produced with cherries. And of course, you can always eat raw cherries as a healthy and satisfying snack. 
One of our favorite Michigan snacks is dried cherries. In fact, we enjoy dried cherries so much that we offer them for sale on our website 😉 Choose from plain Dried Cherries, Milk, and Dark Chocolate Covered Cherries, or Cherry Berry Nut Mix - and enjoy these delectable snacks for yourself!  
Detroit-Style Pizza  
You could argue that pizza is more of a meal than a snack, but we consider a slice or two to be a perfect snack here at our office. Square pizza, inspired by Sicilian street food and now a national phenomenon, was first introduced in the Motor City. In the mid-'40s, Buddy's Pizza opened its first shop in downtown Detroit, before spreading throughout Michigan. Daily stretched dough for the deep-dish pizza yields a thick but airy square that's perfect for holding Wisconsin brick cheese and a light coating of sauce.  
The dough is topped with cheese and a rich tomato sauce flavored with garlic and spices.  Pepperoni is a staple topping, and although there are several other topping options, sometimes you simply can't match the original. This classic topping gets its signature meaty taste and is protected from charring by being baked beneath melted cheese.
Better Made Potato Chips  
If you're looking for a unique twist on a traditional snack, Better Made Potato Chips are a great choice. These Michigan delicacies will satisfy your hunger with the aroma of freshly baked potatoes.
Better Made Potato Chips come in a range of flavors that will fulfill your cravings. From classic Original and fiery BBQ chips, you cannot help but savor the indulgent crunch with every bite, whether you are munching on just one chip or sharing a whole bag with your friends.
Vlasic Pickles
Pickles can be very divisive - you either love 'em or you hate 'em. Vlasic is one of the largest pickle brands in the country, and they're based here in Imlay City, MI. Vlasic was founded by entrepreneurial Bosnian immigrant, Franjo "Frank" Vlašić. Franjo originally started a successful creamery before he was approached to distribute a home-style pickle. Vlasic Pickles was founded in 1942 and it quickly grew with the growing demand for pickles after World War II. 
Vlasic Pickles offer an iconic crunch with a sweet and snappy flavor. They're great on their own, but you can also put them on burgers, hot dogs, pizza, and more. 
Coney Dogs
If you're a foodie visiting Detroit, trying the Detroit Coney Dog is a must. It's a deliciously messy meal that's an essential part of experiencing the city's unique culture.
Are you searching for the best coney dog in Detroit? Look no further than Lafayette Coney Island and American Coney Island. These iconic eateries have been serving up unique twists on the classic coney dog for years.
For a unique twist, try a coney dog with our Chipotle Bean & Corn Salsa for a burst of flavor!
Pasties
Pasties were a British baked pastry, but they're well known in Michigan for being an Upper Peninsula favorite. You can find restaurants serving pasties scattered throughout the Upper Peninsula. Pasties rose to popularity in Michigan because they were an easy and filling portable food to produce for Cornish miners in the UP. 
A pasty is a mix of beef and root vegetables folded into a baked pastry shell. Pasties are warm, flaky, and delicious. We highly recommend stopping for a pasty if you're ever in the UP! 
Paczkis 
If you want to have an authentic Fat Tuesday experience in Michigan, you must try Paczkis. They are fluffy, fried dough balls, larger than regular doughnuts, bursting with flavor, and oozing with delicious fillings. In Michigan, people enjoy diverse Paczki flavors, including classic raspberry and custard, and creative options like peanut butter and jelly.
These tasty treats are a Michigan tradition everyone should try at least once. The filling provides a sweet rush that will make your taste buds euphoric, while the dough is perfectly soft and fluffy. Some people wait hours in long lines on Fat Tuesday to get their hands on them!
Wet Burritos
You might have expected the wet burrito to have been a southwest creation, but it actually originated in Michigan! The Beltline Bar in Grand Rapids, MI is believed to have created the wet burrito in 1966. The "wet" name comes from the abundance of melted cheese and savory red chili sauce on the tortilla. (Speaking of savory sauces, have you tried our Michigan Smoky Hot BBQ Sauce?!) One way the Wet Burrito differs from its dry counterpart is that it is usually eaten from a plate using a knife and fork, rather than with the hands. 
Mackinac Island Fudge
Nearly everyone visiting Mackinac Island returns home with some of the island's famous fudge. Although the island is small - covering less than 4 square miles - it is home to several fudge stores worth exploring.
Many locals and visitors enjoy stopping by fudge shops to indulge in these sweet delectables. With so many options available, there's always a variety of new flavors to try, but traditional favorites like chocolate walnut and turtle are still very popular.
For the best fudge experience, pair these treats with our Mackinawesome Fudge Coffee blend. This blend of coffee beans will give your coffee a sweet, chocolaty flavor to match your chocolaty fudge. 
Superman Ice cream 
Nothing screams "I'm from Michigan" like a declaration of love for Superman Ice Cream. This delightful dessert features red, yellow, and blue swirls, the colors of Superman's uniform, and is made with cherry, lemon, and blue moon flavors. 
The ice cream was reportedly invented by Stroh's Ice Cream, a Detroit-based company that has been in the frozen delicacies business since before Prohibition ended. Residents of the Great Lakes region - particularly those in Michigan - have a strong affinity for this dessert and view it as a cherished local delicacy.
Bumpy Cake
Bumpy cake may not be the most conventional looking cake, but it tastes incredible. The cake was invented by the Sanders Chocolates Company in Detroit in the early 1900s. The cake is comprised of chocolate devil's food cake and topped with rows of buttercream bumps that are then layered with a chocolate ganache. 
Explore A Variety Of Michigan Snacks With Our Mitten Munchies Gift Box
Having trouble deciding on one specific snack to try? Enjoy a variety of Michigan snacks with our Mitten Munchies Gift Box! This gift basket contains a diverse selection of delectable snacks, all crafted in Michigan. It's a wonderful way to showcase your state pride and indulge your sweet cravings.
The box includes Cherry Berry Nut Mix, Sault Ste. Snacks and Milk Chocolate Cherries. If you're looking to impress guests at a holiday party or show appreciation to your employees, the Mitten Munchies Gift Box is a great choice. 
Michigan Snacks From A Michigan Brand
Michigan cuisine is delicious and rich in history. Several unique and flavorful dishes are native to the state, ranging from traditional Polish paczkis to wet burritos and square pizzas. 
Enjoy a taste of Michigan with
snacks from Michigan Awesome
. From signature dark chocolate cherries to savory options like Sault Ste. Snacks, our tasty treats do not disappoint. Whether you're a lifelong Michigander or a tourist, these snacks are a great way to experience the flavors of our favorite state.